The Botanist: The Botanist Crab Apple Collins
Recipe Notes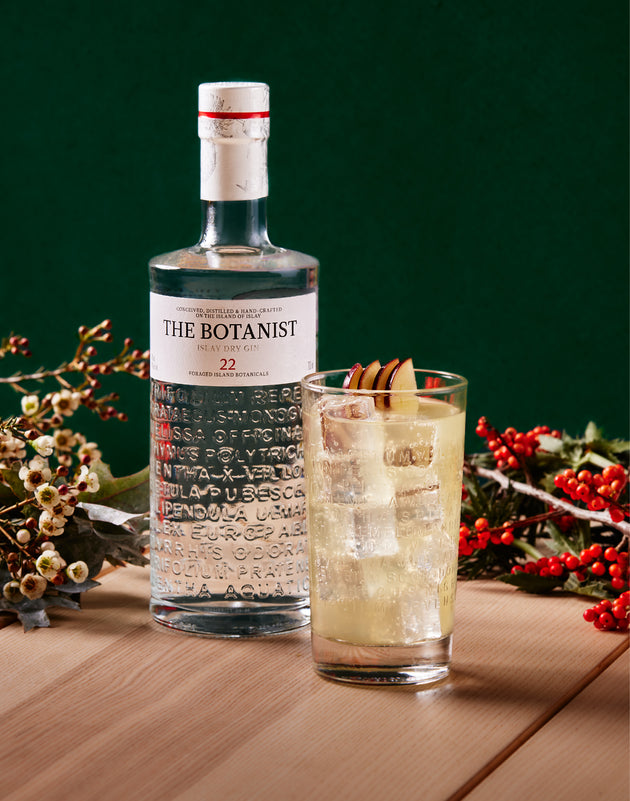 The Botanist Crab Apple Collins
Try making this grapefruit and elderflower gin and tonic. This easy recipe is the perfect combination for a warm summer's evening.
INGREDIENTS
60ml / 2oz The Botanist Islay Dry Gin (see notes tab)
30ml / 1oz Green juice (see notes tab)
Soda water
Ice
Method
Combine all ingredients in a cocktail shaker
Fill the shaker with ice and shake until chilled
Strain over ice into a Collins glass
Top with a splash of soda water
Garnish with a fanned apple slice
Crab Apple Infused Gin
INGREDIENTS
700ml (24oz) The Botanist Gin
1kg (4.5 cups) Crab Apples
Method
Combine both in a mason jar and leave for at least 1 month in a dark, ambient space like a cupboard.
Turning every few days.
Green Juice
INGREDIENTS
150g (1/2 cup) Parsley
75g (1/3 cup) Celery
75g (1/3 cup) Coriander
500ml (17oz) Cloudy Apple Juice (for extra kick and to prevent wastage, add in some of the infused crab apples from your gin!)
100g (1/2 cup) Caster Sugar
50ml Apple Cider Vinegar
Method
Combine all ingredients in a high-speed mixer
Mix on high speed until fine
Strain through a sieve
Strain through muslin
Store in the fridge for up to 4 days, shake before use